Sonntag nachmittag: zurück in Oldenburg.
Samstag war dann der Umzug von Kerstin und Carsten aus Kobern-Gondorf nach Koblenz-City 🙂
Ihre alte Wohnung wurde ziemlich leer, die neue ziemlich voll – wie immer. Wird glaub ich ziemlich gemuetlich, die neue Wohnung. Und die Küche ist sicher auch bald aufgebaut 😉
Ein paar nette Fotos hat es auch gegeben: Nachtfotos
Da Kerstin und Carsten nun ne neue Wohnung in Koblenz haben, muessen sie ja auch mal umziehen .. und ich helfe 🙂
Somit bin ich am WE in Koblenz .. mal sehen ob ich da ein paar schoene Fotos machen kann.
Expansiver Discounter: Lidl drängt nach Dänemark – Wirtschaft – SPIEGEL ONLINE – Nachrichten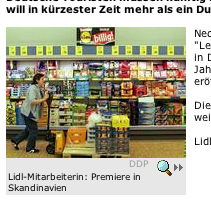 Seit wann gehoert denn Schweden nicht mehr zu Skandinavien? Oder wie darf ich mir erklaeren erst vor zwei Wochen in Schweden bei einem Lidl eingekauft zu haben? 🙂
Since I forgot my iBook Power Adapter in Oldenburg while driving to my parents, I searched for the adapter specs .. which was not easy.
Apple has "crossed" a cinch plug with a 2.5mm phone jack .. but according to some Usenet posts only the inner 2.5mm phone jack is needed for supplying power to the iBook.
See: Google Groups ibook klinkenstecker netzteil and especially here for the details – and most important: differences for Powerbook adapters (Sorry, search results in german only).
So .. where do I get a 2.5mm phone plug and a stabilized 24V power source .. today .. on a sunday. Oh well .. good thing my parents have a notebook, too 🙂
After we spent some really nice days traveling down to Malmö from Umeå, Ulrike boarded a flight to Stockholm and Umeå today and I drove home to Oldenburg from Malmö.
She had 1200 km to travel, I had 540 km to go — guess who was home first.
After three traffic jams and eight hours of driving I was finally home – three hours after Ulrike.