We went to a Moose Farm today! And I finally got to see some moose!
While travelling through sweden, we went through many forests, took many gravel roads: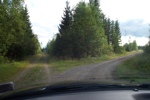 – but still no moose.
So – since I really really wanted to see some moose – we went to a farm 70 km west of Umeå: Älgens Hus
And we were finally able to see – and touch – moose:
Since it was raining the last two days and we didn't feel like spending another night in a youth hostel, we drove a bit more than in the days before, and arrived a day earlier than planned in Umeå.
Getting the keys to Ulrikes room was no problem, luckily, and so now we are staying at Fysikgrand.
We thought we'd better evade the traffic in Stockholm, and drove through to Upsalla immediatly. Going from there to Stockholm by train was far easier and faster than driving by car.
We visited the Vasa Museum, and tried to see as much as possible from the pedestrian precinct.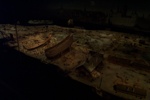 And we were really lucky, after leaving the museum we were greeted by wonderful, sunny weather!